Custom Muscle Car Restoration
Farm Boy Garage went from a young boy's dream to a grown man's reality when Bryan Kratzer broke ground in 2015 to designing and building a one of a kind classic muscle car restoration garage. We specialize in complete muscle car builds inside and out, to order! All cars will be private builds. If needed, the car will be rotisserie restored. All cars are built to the owners' specifications.
We provide accommodations to house prospective buyers including a bedroom, bathrooms, laundry facilities, an outdoor patio, and a 2500 sq. ft. bar and lounge area. Farm Boy Garage doesn't stop there. Can't find the muscle car of your dreams? We will locate it, bring it here, and restore it to your specifications.
Farm Boy Garage understands it is not always easy taking time away from home and family. Our solution to this problem is to assist our clients in making sure the restoration process is stress free, fun, and cost effective. First we have a large enclosed trailer to haul your precious dream machine from your home (anywhere on this planet) to ours and from our home back to yours safely. We are also conveniently located near the airport and we will assist in all accommodations even providing you with a place to stay while you are here.
All custom muscle car restoration services are done in one place by experts you can trust.
Farm Boy Garage Services Include
Custom upholstery
Tear down
Sandblasting
Full custom interior
Off frame
Motor build
Mechanical
Electrical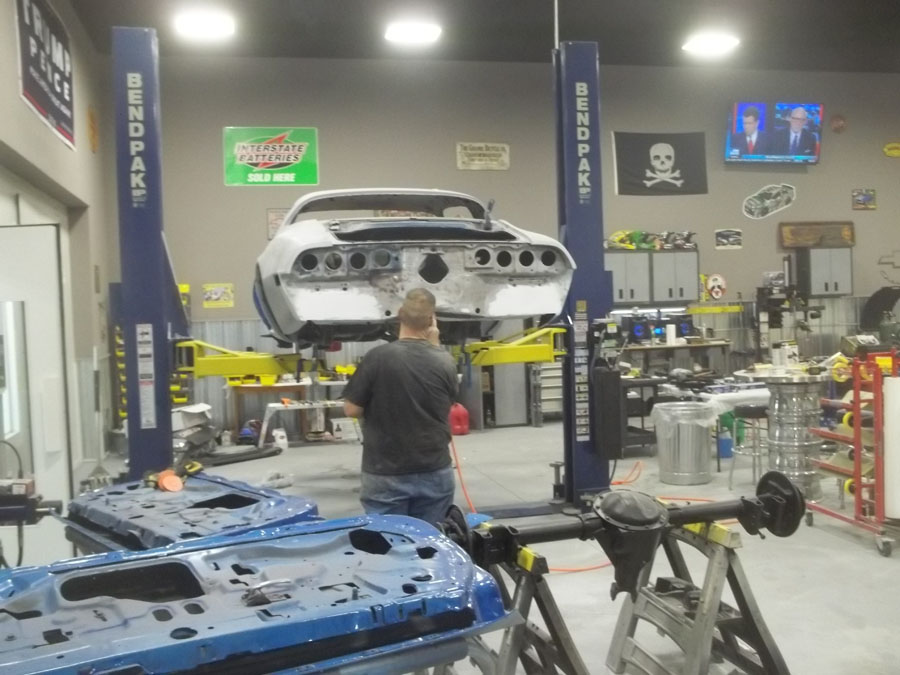 Farm Boy Garage has the pleasure of working with Roger, a retired military vet and muscle car finder enthusiast. For the past 40 plus years, Roger has been searching for the perfect muscle cars to purchase and have restored. These are documented factory original or documented 50/70 year old rods. If you are looking for a muscle car to have restored, Farm Boy Garage is the place to go.  Below is a list of some of the rare treasures we have come upon that Farm Boy Garage will restore to their modified glory. Please contact Farm Boy Garage for more details.
Factory Original or Documented 50-70 yr Old Rods
1967 SS Chevelle with 4 speed disc brakes
1965 Cutlass Special Order with Protecto plate Ultra High Performance 3 l5 horse A/C
1966 Mercury Cyclone 390 4 speed
1969 442 with w30 4 speed package
1969 442 plum no drivetrain
1961 Impala rusty with 1961 Tri Power 348 280 horse stick motor
1949-1951 Mercury We have 10 

9 

2 door

sedans;

1

convertible
1948 Diamond T

one

ton

all

original

no

title

duals

van body

1959 Edsel

Convertible

Corsair

Black

3

speed

manual
1969 Cutlass

from

Montana

with

some parts

to

Clone

a

Hurst

Olds

1956

Bel

Air

2

dr

HT V8

body

off

under way blue

white

1957 Mark

II

Lincoln

California

car

factory

NC

99%

original

stored

decades

1957 Thunderbird

with

12:1

CR,

HIPO

engine, have

started

clone

tribute to "the

200 MPH Battlebird"
1

95

8

Biscayne 2 dr

sedan

black

white time

warp

6

cyl.

have

either

tri

power

or

1

4bl

348

1959 Impala 2

dr

HT

Pink

have

a

348

1961

Buehler

Turbocraft

Jetboat

all original white

red

trim

1962 Black Bel Air

2

dr

sedan

trim

tag

coded

red

interior

on black

exterior
1965 Fastback Red Mustang converted

with

donor factory

parts

to

V8

partially

restored
1965 Convertible

Mustang

factory

4

speed

4

Barrel

289

V8

stored years

1975 Cherokee 2

door

all

original

V8

4×4 brown white

accents

1977 Thunderbird

One

owner

plastic

still

on

seats

Pink Exterior White

seats

immaculate

1960s F100XL

Drag

Truck

clone

Unibody with

427 dual

quad

only

one ever made

1961 impala Super Sport Hardtop with correct date 1961 409, aluminum 4 speed
1931 Aubum 898A Cabriolet Hotrodded by WWII vet: leaded channeled; crate Cad mill with 800 miles; original knock off wire wheels new correct wide whites stock 2 speed axle well documented runs drives most original parts in boxes: top, spare covers, luggage rack
1940 Mercury Pink Slip Convertible mild
1960 Hot Rod reversed shift two carbs
1940 Mercury Pink Slip Convertible Hot rod
1950's Oldsmobile OVHD valve bored V8
1964 Impala Super Sport Convertible Air conditioned 409
1970 Boss Mustang Boss 302 Red Red Interior Marti Report
1969 Camaro Z28 Blue Blue Interior original x code cowl original correct suspension
1968 Fastback Mustang GT 390 White Blue Stripes Marti Report
1963 1/2 Ford Galaxie 427 Red Red Interior
1965 impala 409 factory air conditioned
1965 Impala 396 4 speed factory tachometer red black interior
1964 Impala SS 409 hardtop yellow black interior w replacement block and heads
1963 Impala SS 409 hardtop red with replacement block and heads
1961 Bonneville Convertible PHS documented 425a4 speed Black over Red
1964 GTO documented Tri Power auto PHS
1966 GTO documented one owner 4 speed PHS MSO on title
1965 Buick Skylark Gran Sport Red Black interior Auto Tach all original Iowa car
1970 Chevy Black SS454 Monte Carlo
1960 Ford Starliner factory Y code 352 3 speed manual with some HIPO 360 parts
1960 Black Bel Air Hardtop with 320 horse 348 HIPO with 1960 4 speed
1966 SS Chevelle documented Black Factory 396 4 speed with 360 HP engine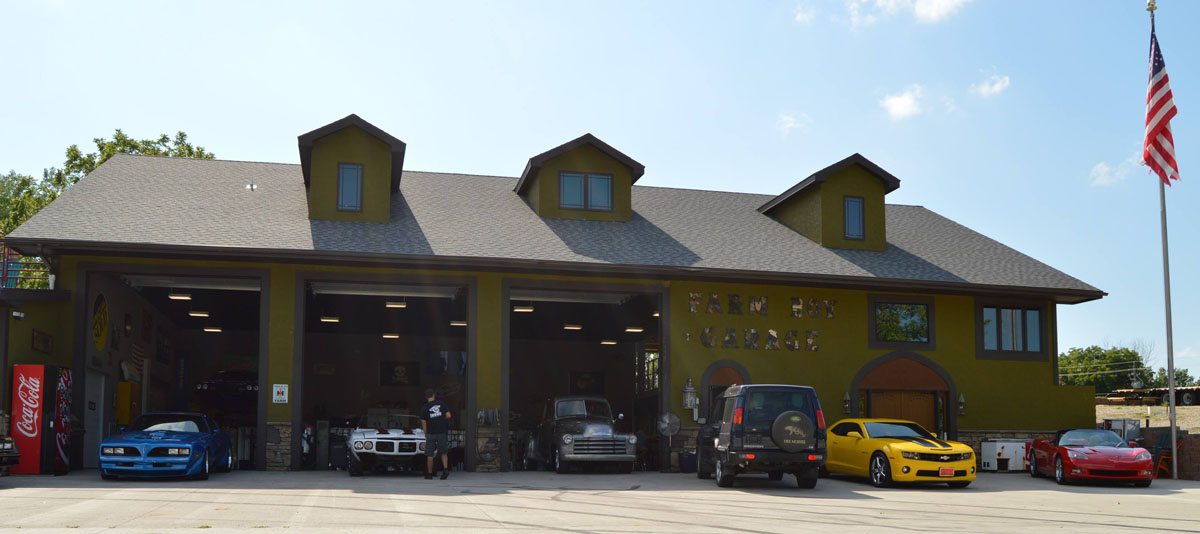 Event & Party Facility
Hold your next event at Farm Boy Garage. We have 6 acres of land and 8000 square feet of space to rent out for your next social event/party. Whether you are hosting an employee appreciation event, wedding, birthday, bachelor/bachelorette, any type of gathering Farm Boy Garage will help in the coordination and planning of the entire event.
Wanna drive a muscle car on your wedding day…that is an option.
Contact us for a tour and pricing.
Phone: 515-528-8904
Bryan's Cell: 515-333-1238
farmboygarage@icloud.com